Biography
A rock and a hard place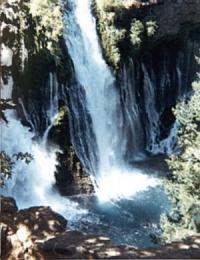 Jenna Monroe was born in Michigan and raised in the Sierra Nevada Mountains of north-eastern California. She had her start in life in miners shacks and mountain cabins. The raw beauty and reality of Jenna's surroundings and circumstances, together with her father`s work in the local state prison, had a lasting influence on her. As did the Native Americans, living as a marginalized shadow population just beyond the town limits on the rancheria (reservation). Yet, from an early age, Jenna listened to folk songs and opera with her mother and it was this music that offered an alternative reality to her often brutal social and physical environment.
The Healing Power of Voice & Music
Jenna`s interests further broadened to include the healing power of music and the voice. Always with the voice as the central focus and motivational force, the newest string in her bow is training as an advanced EFT practitioner (Emotional Freedom Technique) with the Sonya Sophia School of Living Wisdom. Jenna also incorporates the Wave Form in her work - a way of using specific receptors of the nervous system to identify where change 'wants' or is ready to take place. She has worked extensively with Jonathan Kay in the Nomadic Academy of Fools, which shooed the last vestiges of her stage fright right out the door.
Jenna taught at University of Bristol on the Music Therapy M.A training immediately after she qualified from U of B herself as a music therapist. Prior to that, she completed a foundation training in Buddhist-based core process psychotherapy and Reiki I,II,III. Way back when, Jenna trained and qualified as a Steiner kindergarten teacher with the hope that it would prepare her for motherhood. (Of course, she soon learned that nothing can prepare you for that).
Jenna practices yoga, pilates and meditation as a regular discipline and incorporates elements of these in her work with her private singing students and freelance vocal improvisation workshops.
A Love of the Earth
Jenna has a deep love and respect for the Earth. She was active in the Newbury Anti-Bypass Campaign, co-organising and coordinating the music and singing for the Multi-Faith Act of Witness to peacefully protest the destruction of ten thousand trees. As a result of this event, the only tree of ten thousand - Middle Oak - was spared. Jenna is also an exponent of shamanic improvisation, in both performance and recording, and was commissioned twice by Dance House East to create the music for avant-garde dance. She has enjoyed creating electronic music with K Halley.
Beauty from Ashes
In 1999, Jenna formed an eclectic roots-fusion ensemble Aanii performing music from all over the world. Since then she has recorded a collection of freedom songs and Leonard Cohen's songs, accompanying herself in unique and compelling classical fusion arrangements that have inspired her audiences across the country. She also has widely performed her cabaret show, 'Love Laid Bare', selling out at the Everyman Theatre, Cheltenham, twice. But the music that comes from the deepest wellspring of her spirit is what she has called 'shamanic improvisation' in ceremonial settings. Her current passion is to experiment with creating, performing and facilitating collaborative/interactive concerts with groups, moving from simple chants and melodic motifs to pure improvisation, combined with EFT.